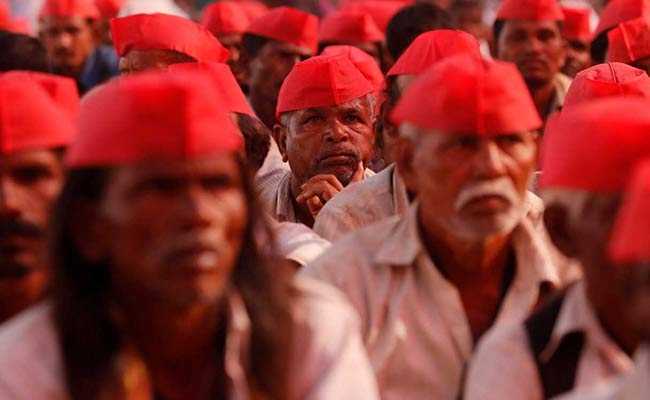 After marching for several days, the protest rally, consisting of almost 50,000 farmers, entered Mumbai and reached the Azad Maidan in the city on Sunday.
Last year, Maharashtra Chief Minister Devendra Fadnavis said his government would write off loans to farmers, estimated to be worth around 305 billion rupees (S$6.16 billion).
Numerous marchers, braving the early summer heat, were seen reaching Mumbai with red and swollen eyes, broken or temporarily mended footwear, dusty, torn clothes, having barely managed a square meal or a proper bath during the past week as they started in Nashik on Wednesday.
The government said that a six-member panel would be set up to look into all the demands and will submit its report in a given timeframe.
The agitating farmers went ahead with their protest walk regardless of the CM Fadnavis' announcement in the state assembly that his government had already deposited promised relief money in the bank accounts of more than 39 lakh farmers.
Apart from the Opposition parties, the Shiv Sena, a partner in the ruling Bharatiya Janata Party-led coalition, also vocally supported the agitation.
Maharashtra's Tribal Development Minister Vishnu Savara told media persons that one of the main demands had been that tribal farmers should be given ownership rights over land which are being cultivated on for many years.
Mumbai traffic was largely unaffected as farmers reached the city at around midnight on Sunday but police said they were on alert in case of disruption later. The farmers had also demanded an immediate implementation of MS Swaminathan committee's recommendations, which ensures fair remuneration.
Farmers in Maharashtra have called off their protest after the government agreed to their demands on Monday. Braving the heat, the protesters, including women and senior citizens, crossed 35km a day on an average.
The farmers are also complaining that the government's support price - the minimum price at which it buys grains and other produce - is too low, and that their land rights are frequently infringed upon or neglected.
Numerous farmers were barefoot, said Nitin Rane, a university student who joined his sister in handing out paper cups of water. They often mortgage their lands and, as borrowings mount, many are driven to suicide. In 2017, the AIKS observed a 11-day farmers' strike and a road blockade across the state, but most of their protests, being confined within districts, never succeeded in attracting the attention of city residents.