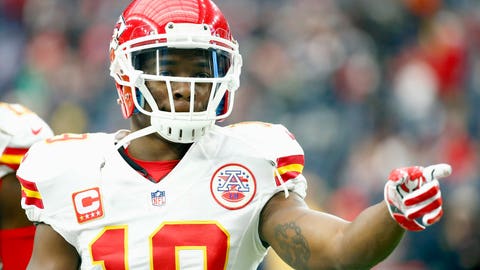 The Ravens made a good move by signing veteran receiver Jeremy Maclin to a two-year contract Monday.
We recently discussed why we though the Baltimore Ravens should sign Jeremy Maclin, and fortunately the team has decided that they wanted him.
The Chiefs don't play the Ravens but they do play the Bills, who was the other team that Maclin visited. Offensive line is the major need now that the Ravens have added a wide receiver. As Maclin inks his deal with the Baltimore Ravens, the Chiefs embark on a new future ahead of them. To that end, Baltimore helped themselves out by selecting cornerback Marlon Humphrey in the first round of the 2017 National Football League draft and signing veteran cornerback Brandon Carr as insurance.
Maclin, 29, caught just 44 passes for 536 yards and two touchdowns in 12 games a year ago in his second season with the Chiefs. In his first four seasons, under head coach Andy Reid, he totals 258 catches for 3,453 yards and 26 touchdowns.
The Ravens remain in the mix for Decker, even after signing Maclin, according to ESPN.
The Bills might now turn their attention to free agent Eric Decker, but the Ravens are still interested in him, as well, reports Schefter. As mentioned by McCoy, Maclin would complement Sammy Watkins well and greatly strengthen the wide receiver position. Just 29, the former first-round pick was just a year removed from back-to-back 1,000-yard seasons despite playing in offenses in Kansas City and Philadelphia that lacked the vertical game to take advantage of his deep speed. Maclin caught 44 passes for 536 yards and scored two touchdowns in 2016 but was coming off back-to-back 1,000-yard receiving seasons in 2014 and 2015. Maclin was scheduled to be a $12.4 million cap hit in Kansas City but it's not likely he'll command anywhere near that now. It can be argued that Bryant is the better player over Maclin at this point in their careers, although we haven't witnessed him play in over a year.
The Ravens also run a West Coast offense presided over by coordinator Marty Mornhinweg, who was Maclin's coordinator for the receiver's first four seasons in Philadelphia.